(2 intermediate revisions by the same user not shown)
Line 1:
Line 1:
 

{{Tabs|maxwidth = 20|bordercolor = gray|borderradius = 6|height = 2.2|backcolor = #616161|tab1 = General|altbackcolor = #181818|tab2 = Image Gallery}}

 

{{Tabs|maxwidth = 20|bordercolor = gray|borderradius = 6|height = 2.2|backcolor = #616161|tab1 = General|altbackcolor = #181818|tab2 = Image Gallery}}

 

{{PPV_chrono|title1 = WWE World's Collide: Invasion|image1 = <tabber>

 

{{PPV_chrono|title1 = WWE World's Collide: Invasion|image1 = <tabber>

−

|-|Poster #1= [[File:WC - Invasion Poster (1).png]]

+

|-|Poster #1= [[File:WC - Invasion Poster ().png]]

 
+

|-|Poster #2= [[File:WC - Invasion Poster (1).png]]

 

</tabber>|brand = * [[RAW]]

 

</tabber>|brand = * [[RAW]]

 

* [[Smackdown Live]]

 

* [[Smackdown Live]]

−

* [[WWE NXT|NXT]]|date = 30 September Year IV|venue = [https://en.wikipedia.org/wiki/Tokyo_Dome Tokyo Dome]|location = [https://en.wikipedia.org/wiki/Tokyo Tokyo], [https://en.wikipedia.org/wiki/Japan Japan]}}

+

* [[WWE NXT|NXT]]|date = 30 September Year IV|venue = [https://en.wikipedia.org/wiki/Tokyo_Dome Tokyo Dome]|location = [https://en.wikipedia.org/wiki/Tokyo Tokyo], [https://en.wikipedia.org/wiki/Japan Japan]}}

 

'''WWE World's Collide: Invasion''' is a [[Professional wrestling]] show which will take place on 30 September Year IV at the ''Tokyo Dome'' in ''Tokyo, Japan''.

 

'''WWE World's Collide: Invasion''' is a [[Professional wrestling]] show which will take place on 30 September Year IV at the ''Tokyo Dome'' in ''Tokyo, Japan''.

 
 
Line 13:
Line 14:
 

<tabber>

 

<tabber>

 

|-|Match #1=

 

|-|Match #1=

−

[[File:Daniel_Bryan_(WC_Invasion)_(1).png|thumb|left|200x200px|Following his shocking return on Smackdown Live, Daniel Bryan returns to in-ring competition full time against a opponent yet to be named]]

+

[[File:().png|thumb|left|200x200px| , Daniel Bryan returns to in-ring competition full time against ]]

 

At [[WWE Rebellion (2016)|WWE Rebellion 2016]], [[Daniel Bryan]] officially retired from in-ring competition due to multiple injuries against his hand-picked opponent [[Shinsuke Nakamura]] and he went away into management. Years later after finally being cleared by medical staff, "The American Dragon" was also granted a new contract as a full time competitor and he will make his in-ring return at WWE World's Collide: Invasion in the Tokyo Dome.

 

At [[WWE Rebellion (2016)|WWE Rebellion 2016]], [[Daniel Bryan]] officially retired from in-ring competition due to multiple injuries against his hand-picked opponent [[Shinsuke Nakamura]] and he went away into management. Years later after finally being cleared by medical staff, "The American Dragon" was also granted a new contract as a full time competitor and he will make his in-ring return at WWE World's Collide: Invasion in the Tokyo Dome.

 
+
−

</tabber>

 
 
+

His opponent? The returning former WWE Champion, [[Brock Lesnar]]. Will it be Suplex City? or will the "Yes Movement" light up the Dome?

−

'''''More To Be Added'''''

+

'''''More To Be Added'''''

 
 
 

== Multimedia ==

 

== Multimedia ==

Line 22:
Line 24:
 

=== Videos ===

 

=== Videos ===

 

<tabber>

 

<tabber>

 
+

|-|Promos=

 
+

<gallery>

 
+

Brock Lesnar returns at WWE World's Collide Invasion (Official Universe Mode Promo)

 
+

</gallery>

 

|-|Full Show=

 

|-|Full Show=

 

'''''To Be Added'''''

 

'''''To Be Added'''''
---
Latest revision as of 14:19, 2 August 2019
WWE World's Collide: Invasion is a Professional wrestling show which will take place on 30 September Year IV at the Tokyo Dome in Tokyo, Japan.
Event Summary
To Be Added
World's Collide: Invasion Previews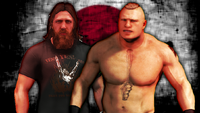 At WWE Rebellion 2016, Daniel Bryan officially retired from in-ring competition due to multiple injuries against his hand-picked opponent Shinsuke Nakamura and he went away into management. Years later after finally being cleared by medical staff, "The American Dragon" was also granted a new contract as a full time competitor and he will make his in-ring return at WWE World's Collide: Invasion in the Tokyo Dome.
His opponent? The returning former WWE Champion,
Brock Lesnar
. Will it be Suplex City? or will the "Yes Movement" light up the Dome?
More To Be Added
Multimedia
Videos
Behind The Scenes
This will be the second show apart of the the GreshDigiTV Live Event Special series that will air bi-monthly