Smackdown Live | Episode 48 Results
BROOKLYN, NY - It was a night of twists and turns, World Heavyweight Champion Finn Balor returned to a ruckus ovation from the WWE Universe and a huge loss sent a certain Superstar over the edge.
World Heavyweight Champion Finn Balor returns
After spending two months on the shelf for an injury caused by Big E in a parking lot. World Heavyweight Champion Finn Balor returned more focused and he was determined to fight Big E no matter what but Smackdown General Manager Ric Flair had other plans by offering the leader of "The Balor Club" the chance to defend his World Title against the "Master of the Five Count" at King of the Ring in 4 weeks but Balor was having none of it, even going as far as backing the boss into the corner as if he was about to strike "The Nature Boy".
but unbeknownst to both men, Big E was ready to strike and he did by attacking Balor from behind once again and hitting 2 massive Big Endings and possibly leaving Balor more angry at the big man.
United States Champion Seth Rollins def. Apollo Crews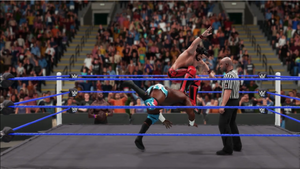 Challenging the United States Champion to a title match seemed like a great idea in the eyes of Apollo Crews but once that bell rung, he quickly realized that he was in the ring with Seth Freakin' Rollins and that he was in for a fight. A back and forth contest it was but all it took was for Crews to get overzealous and miss a clothesline for "The Kingslayer" to hit a quick Blackout for the 1-2-3.
But the night was far from over...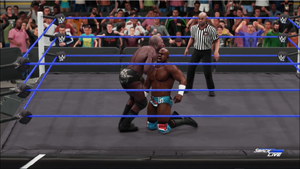 A frustrated Apollo Crews was being comforted by his friend and leader of Titus Worldwide, Titus O'Neil, only for Crews to show his true colors by hitting a shocking low blow on O'Neil and go on a relentless attack on the man who took him under his wing. After throwing O'Neil around ringside, he shouted that he was done with him before tackling him threw the barricade and with little to no emotion stood over his fallen friend and slowly walked away to end the show.