NXT Results: Episode 15
---
The Dragons def. NXT Tag Team Champions Eric Young & Alexander Wolfe (Sanity)
El Paso, TX - It was the final stop on the NXT tour before the yellow brand returns to Full Sail and what a historic night it was
Kyle O'Reilly and Bobby Fish, collectively known as The Dragons proved they should be in high contention for a future shot at the NXT Tag Team Titles with a sounding victory over the Tag Team Champions, Sanity, who were still reeling after that brutal assault from the Undisputed Era in Orlando.
Carmello Young def. Roderick Strong
Making a statement was an understatement if you witnessed the newcomer - Carmello Young's - massive and impressive NXT debut against Roderick Strong and despite a failed attempt at a comeback, the "Master of the Back-breaker" fell victim to a power-bomb/super-kick combo, leaving the self proclaimed "Tank" with his first victory in NXT.
Now that's impressive
NXT Champion Bobby Roode def. Kassius Ohno (Non-Title)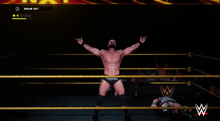 It was a "Glorious" night for the new NXT Champion, Bobby Roode
Fresh off his impressive victory over Shinsuke Nakamura in Orlando, the "Glorious One" decided to push the buttons of his longtime rival in NXT, Kassius Ohno. After assaulting him before the bell rang and thwarting every offensive maneuver the "Knockout Artist" tried to send his way, one DDT later and the champion is standing victorious over his "potential" challenger.
Peyton Royce wins 8-Woman Battle Royal to win the NXT Women's Championship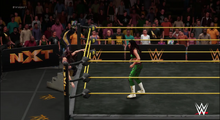 NXT General Manager Christian announced that 8 of NXT's past, present and future would compete in a 8-Woman Over the top rope Battle Royal to determine the NEW NXT Women's Champion, the same title that Asuka was forced to vacate due to injury
The four women representing NXT's past was one of the original "mean girls" in Dana Brooke and Emma while Mickie James made her second appearance in NXT history, the first ever NXT Women's Champion in history, Paige, made her shocking return to participate in this historic battle royal. The three women representing NXT's present was the "Iconic Duo" Peyton Royce and Billie Kay while Ember Moon looked to silence the critics proclaiming that she "Can't Win The Big One". But the woman representing NXT's future had many in the WWE Universe in shock and awe as newcomer - Rebecca - made her NXT debut, her entrance itself left even the commentary team speechless a times.
But in the end it all came down to Peyton Royce, Billie Kay and Mickie James with Billie Kay stabbing Peyton Royce in the back but before she could eliminate her "friend" Mickie James took out the treacherous Kay before being eliminated her by Royce, earning Royce her first taste of gold in NXT.
---