FRESNO - During the conclusion of Monday Night RAW, WWE Commissioner Shane McMahon was brutally assaulted in the parking garage.
As he was being rushed to a nearby medical facility in Fresno, California, it was revealed that Shane also suffered a severe gash across his abdomen, so severe that he was rushed to immediate surgery.
WWE Chairman and CEO Mr. McMahon released the following video announcement a few moments ago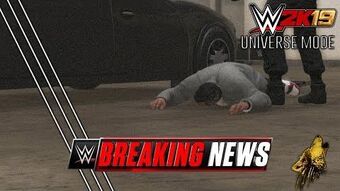 During the announcement, Mr. McMahon confirmed that Shane McMahon will be out of commission until he fully recovers from his injuries while also keeping Shane's invitation to Jonathan Good (Dean Ambrose) intact so that the former WWE Superstar can respond to the accusations against him.
UPDATE:
A nearby worker in the parking lot snapped this picture of a masked man standing over a fallen Shane McMahon:
No more information can be given at this time...
Be sure to stay tuned to this Fandom page for more information in regards to this horrific situation.